We made 2 cards this week. First one is a really simple and elegant Christmas card.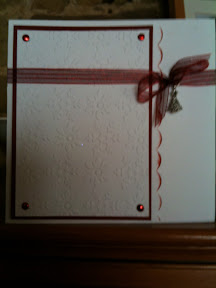 There's a snowflake embossed pattern. There was a sentiment that I didn't have time to stick on but I lost it on the way home. I like it as is though.
This one was using distressing inks.
I found the proper ink applicator made it much easier to get a smooth effect. We squirted water and blotted to make the snow effect. Didn't have time to colour it in during the class, so I painted with cosmic shimmer watercolours when I got home.